Molti LMS

Made for Learndash LMS & Divi Theme
Molti LMS is a powerful and modern Divi Child Theme that enables you to create stunning learning management system (LMS) sites with ease. This theme pairs the intuitive Divi builder with the advanced features of LearnDash plugin, enabling you to quickly set up and customize your website without needing to code.
Learn more about Regular & Extended licenses.
Regular License
Yearly Subscription
Unlimited Sites
With a Regular License, you're allowed to use the Product on unlimited Projects either It's Personal or Commercial. The purchased items or any of Its Components must not be resold or redistributed. You'll need an active Subscription to access the Product & Updates.
Extended License
Lifetime
Unlimited Sites
With an Extended License, you're allowed to use the Product on unlimited Projects either It's Personal or Commercial. The purchased items or any of Its Components must not be resold or redistributed. You get Lifetime access to the Product & Updates.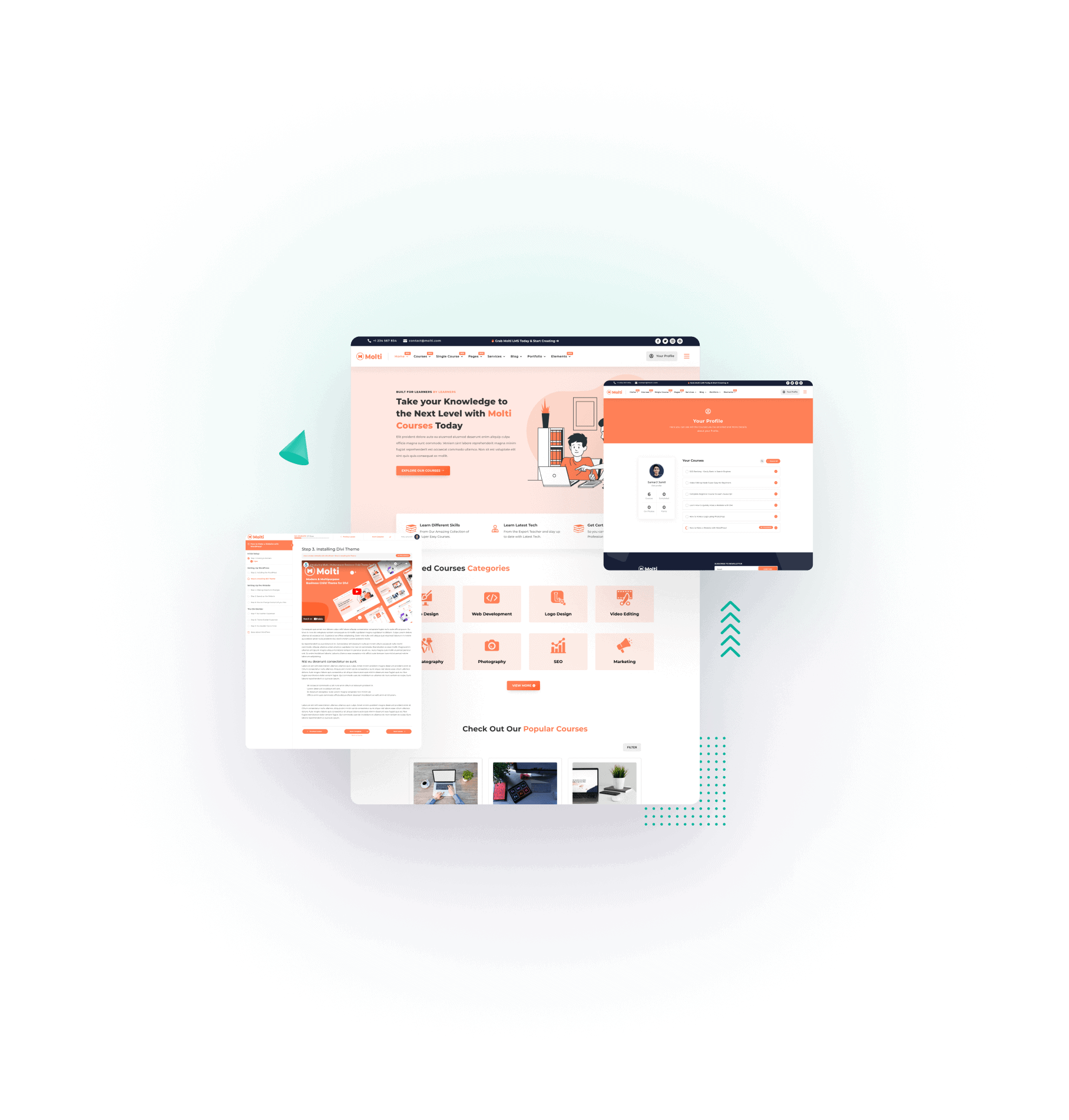 Modern & Multipurpose
LMS/Business Child Theme
Molti LMS provides many amazing Features & Functionalities that you haven't seen before and some of them are:
Amazing Learning Experience
Create a Fully Functional
LMS/Course Site

Today!
Are you ready to create a stunning LMS/Course to reach your students the right way with amazing Design and Stunning Functionalities like never before with a Multipurpose Design? Then what are you waiting for? Grab the Molti LMS Child Theme for Divi Today!
Anytime, Anywhere Learning:
Molti LMS Fits Every Screen
Ensure that your students get the best learning experience. Molti LMS is 100% responsive theme ensures that no matter what device is used, it displays perfectly and provides a seamless learning user experience on any device.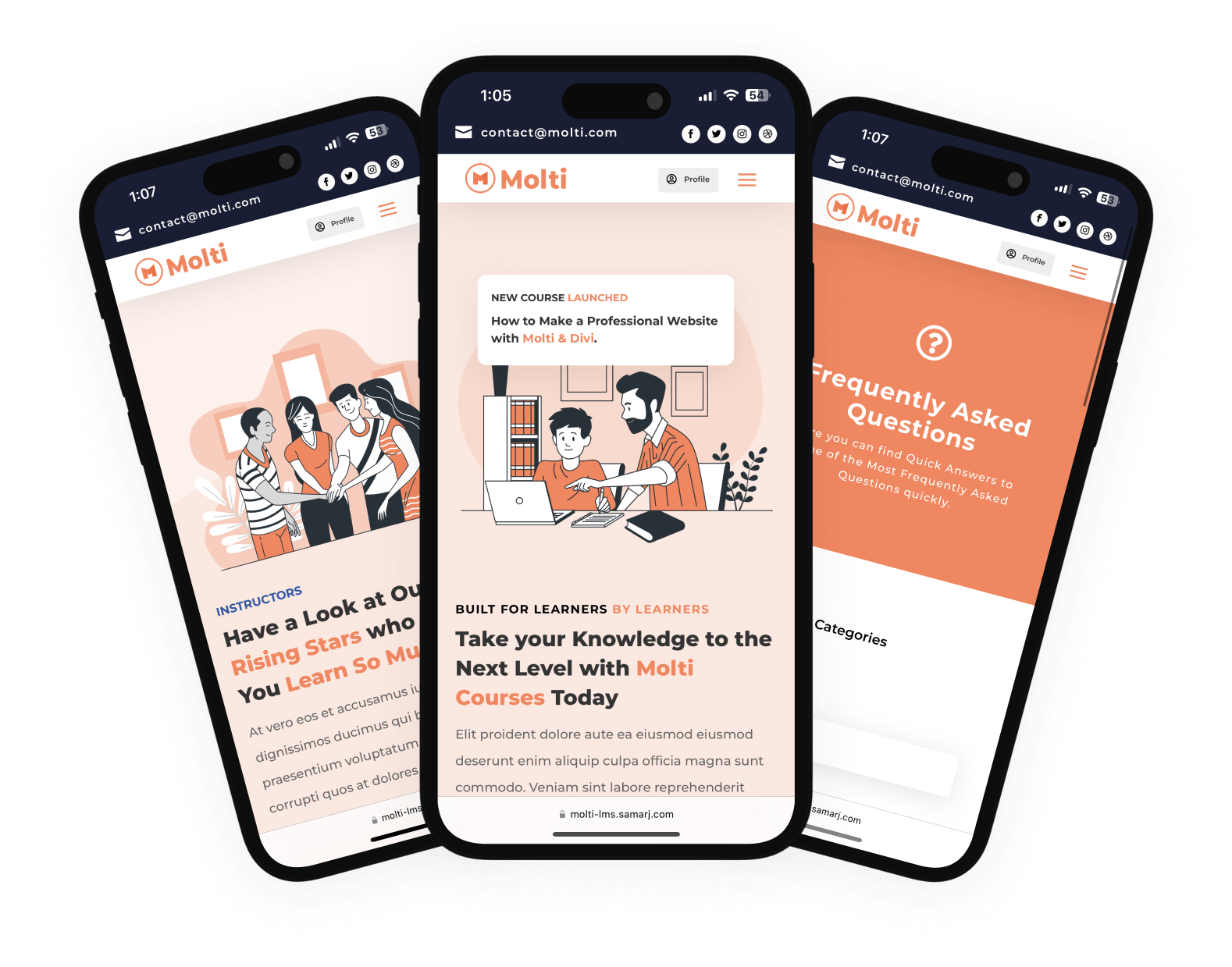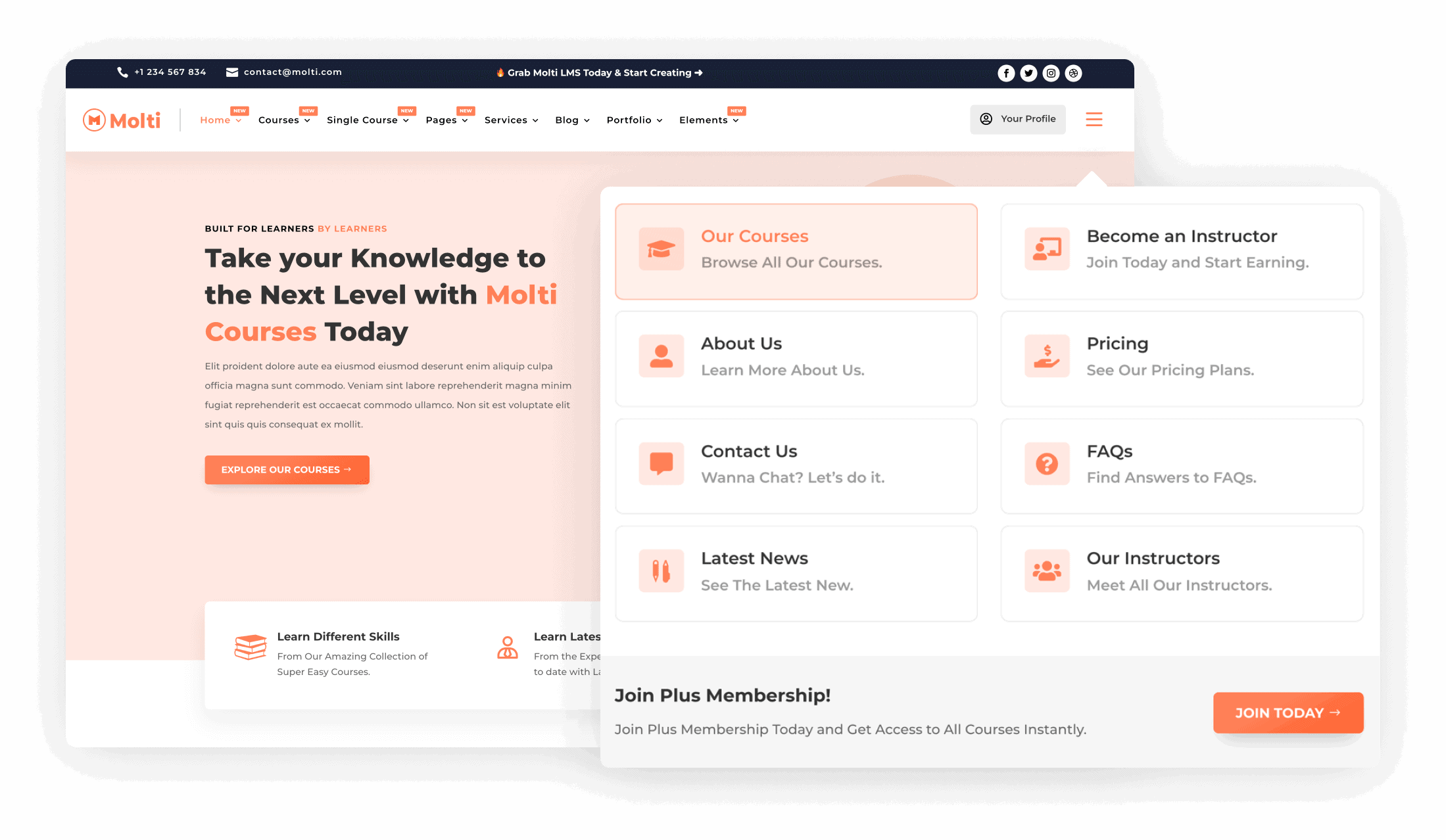 Meet the New Version of
Molti Advanced Dropdown
Let us Introduce to the next version of Molti's Advanced and Traditional Dropdown/Mega Menu, that we've drastically improved in Molti LMS and made it more sleek and fun to browser, just clicking on it will Delight Your Senses.
Stunning LMS Features

You'll Fall in Love With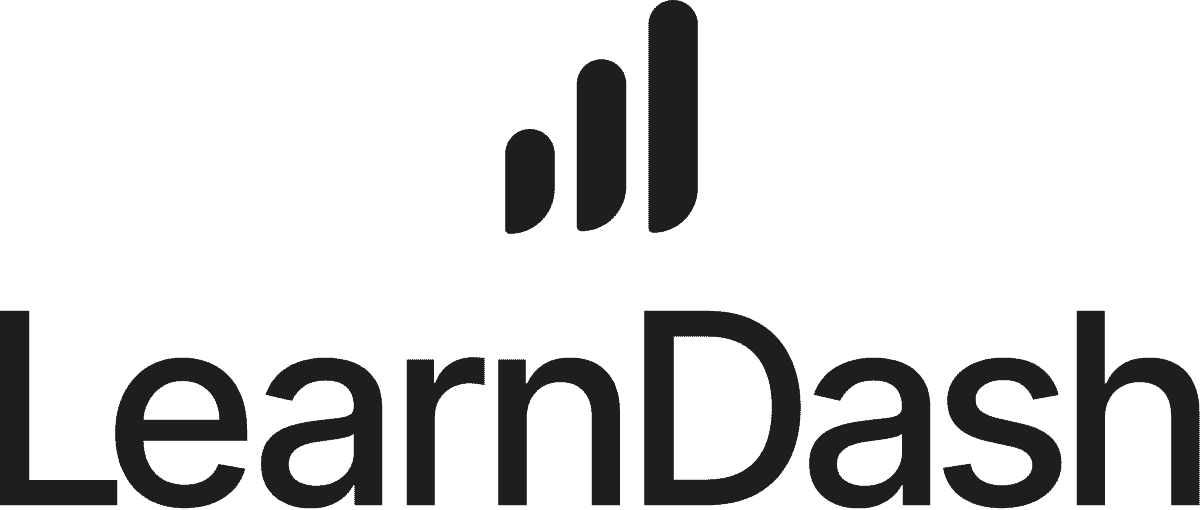 Molti is Now Your Ultimate
Learning Management Solution!
Molti is the ultimate learning management solution for creating stunning and engaging online courses. With a wide range of features, Molti LMS allows you to create and manage your course content quickly and efficiently. Whether you need to deliver lessons, tests, certificates, etc — we have everything you need to make your courses come alive.
A Complete
LearnDash Solution for Divi!
Now Build
Amazing LMS Websites

with Stunning LMS Features Your Customers will Love!
4 Course Grid Styles
Molti LMS Provides 4 Amazing and Beautiful Looking Course Grid Styles to choose from.
Beautiful Login & Profile
Make a Unique First Impression with Beautiful Login & Profil Page Designs for Learndash.
Sleek Course Detail Page
Molti LMS make sure your user is not distracted by tons of info on Details page, so we kept it Neat & Clean.
Stunning
Grid Designs

to Choose From
Four Amazing Looking
Grid Designs

to Choose From!
Molti LMS uses the power of LearnDash Course Grid and combine it with WordPress & Divi to provide 4 stunning looking Grid Designs in Divi that you'll totally adore. These designs are great looking and provide more detailed info on the course.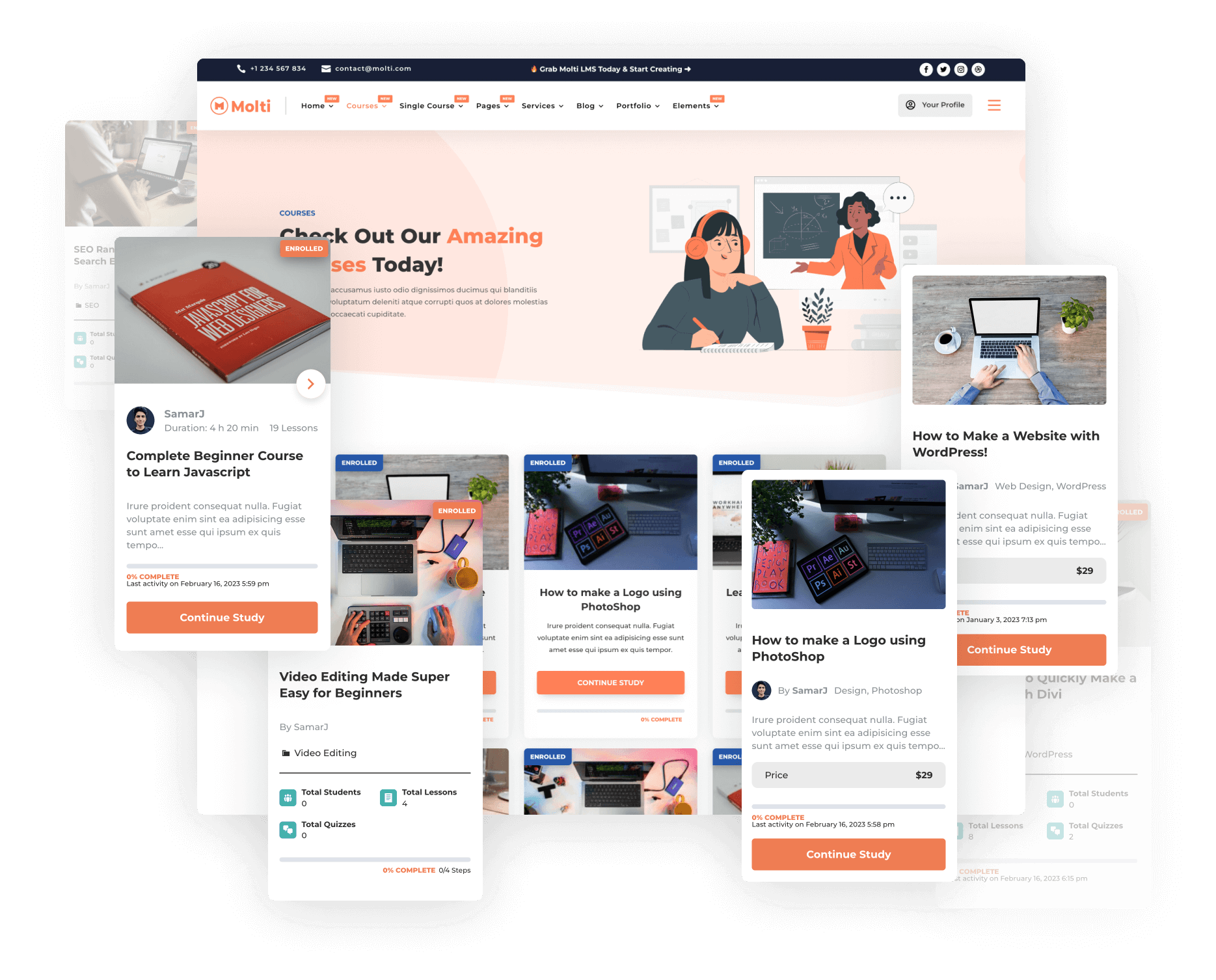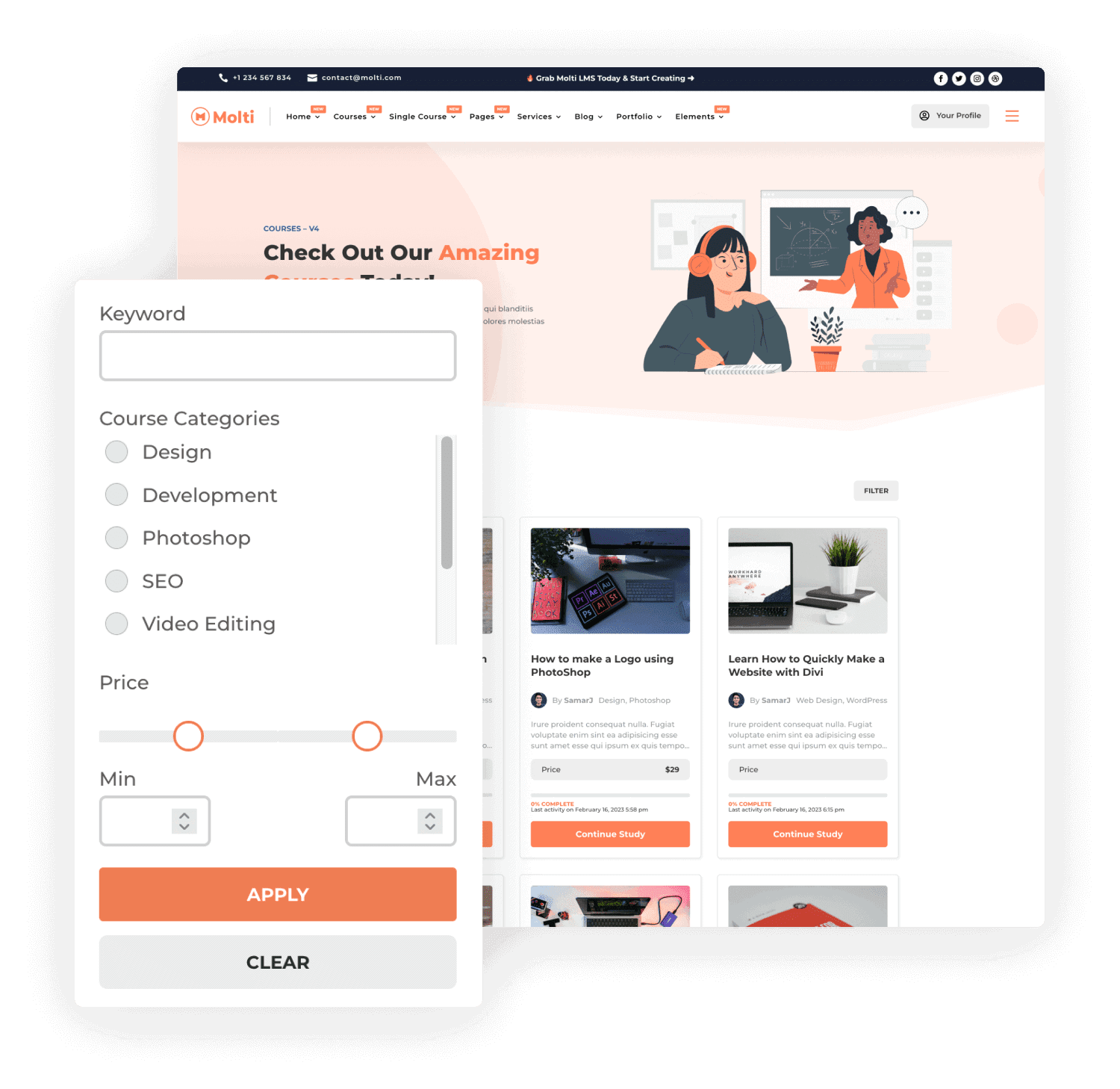 Quickly Filter

Through Courses
Effortlessly Find the Perfect Course
Using Filters!
Molti LMS Provides an easy way to effortlessly filter through all the courses on your site. No matter how many categories you have, It will be super easy to browse through them all. This make sure that your helpful course reaches the right audience.
A Beautiful
Login Screen

and

Profile Page

Experience!
We Make sure that the After Purchase Experience is tidy and nice, so we made the Login screen and Profile super clean and gave them a sleek look that will definitely make a good first impression on your customers.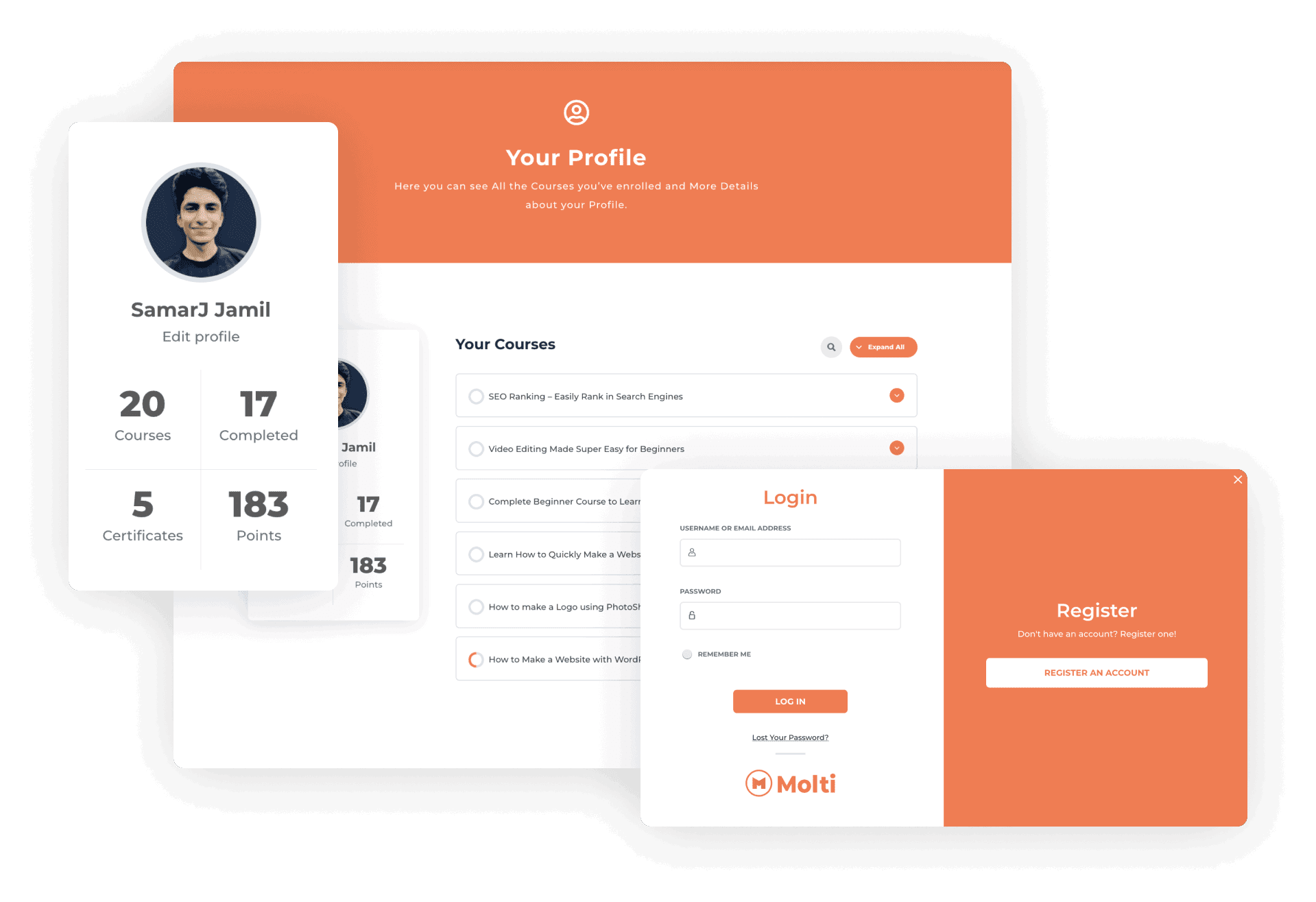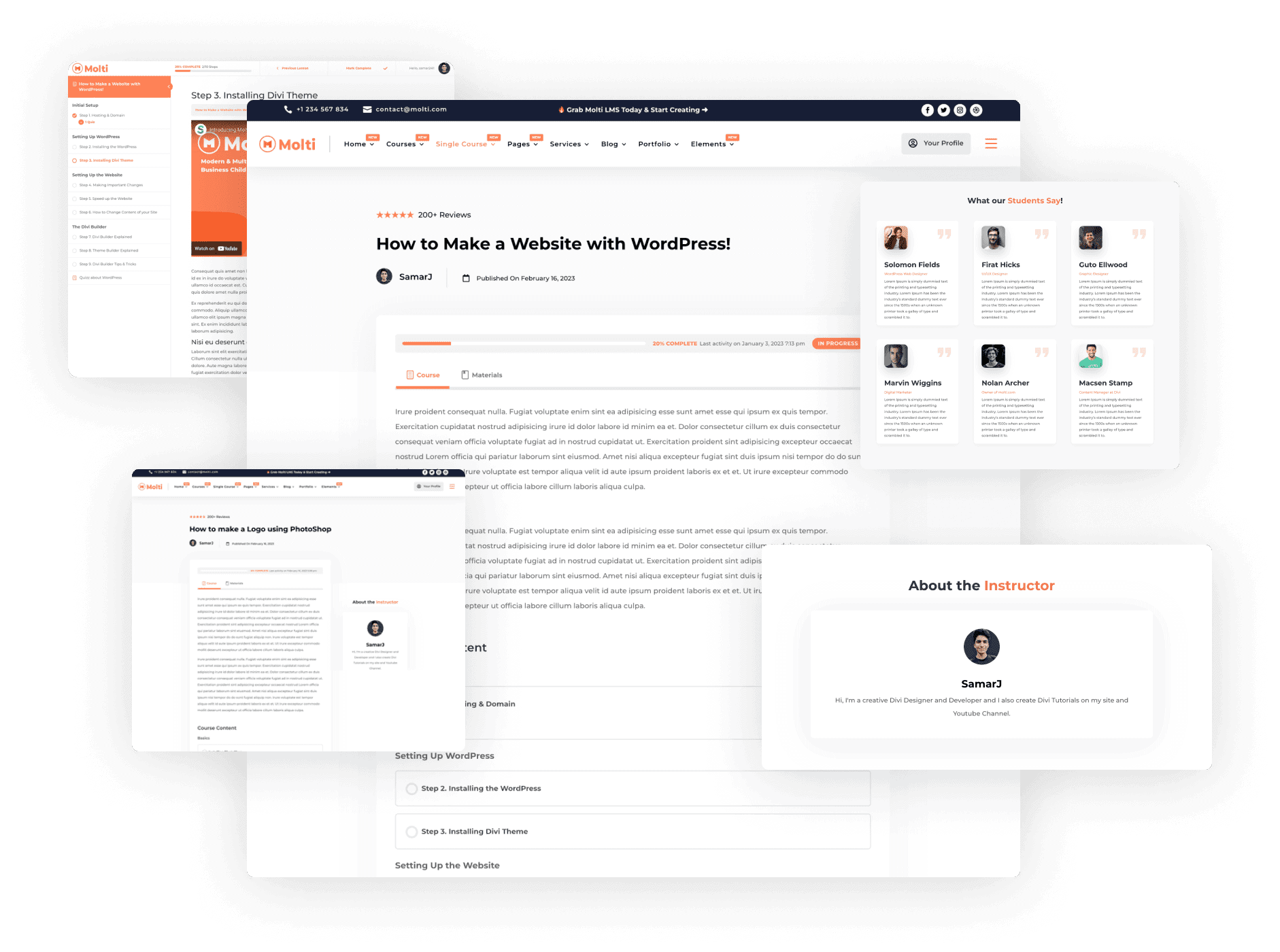 Neat & Clean

Single Course and Lesson Pages
Single Course Pages are the most essential thing of a Course website that's why Molti LMS ensure your user is not distracted by tons of info on Details page,so we kept it Neat & Clean. So the user only see the info that he needs – Less Distractions = More Sales!
Amazing
Effects

and

Functionalities
Beautiful
Dropdown

Menu

With So Many Amazing Features Functionalities Molti LMS really shines, one of them being the amazing and beautiful looking Dropdown Menu which is super attractive!
Testimonial

Tabs

On the Molti LMS Homepage, you'll see a really nice looking Tabbed Testimonial section that will reveal the Testimonial content on image click.
Amazing
FAQ Tabs
Now you don't need to worry If you've got so many FAQs to answer, with Molti LMS you get a really nice looking tabbed FAQ section that's just awesome to the eyes.
Course
Filters
Out of so many amazing Course Features we totally love the Amazing Course Filters which makes sure your courses reaches its right audience.
Team/Instructors
Carousel
Want to show your Instructors/Team Members in style, don't worry we got you covered. Molti LMS Offers a really nice looking Team Carousel that's just epic to slide.
Pricing
Toggle
Need a really cool looking Pricing Page with Yearly/Monthly switch? We got you. With Molti LMS you also get Pricing Toggle to easily switch Pricing Models
Process

Tabs

Want to create advanced tabs that guides your user through Process of your Business, we got your back. With Molti LMS, you get just that but with added benefits of Amazingness.
Stunning
Hover Effects
Molti LMS comes packed with really cool & stunning animations with it to make sure that your users enjoy your site while browsing and love every moment of it.
Stunning 
Header

Designs

With many Theme Builder Templates Molti also Provides 10 Cool Header Designs for any kind of website, simply choose a design that suits you and make it yours.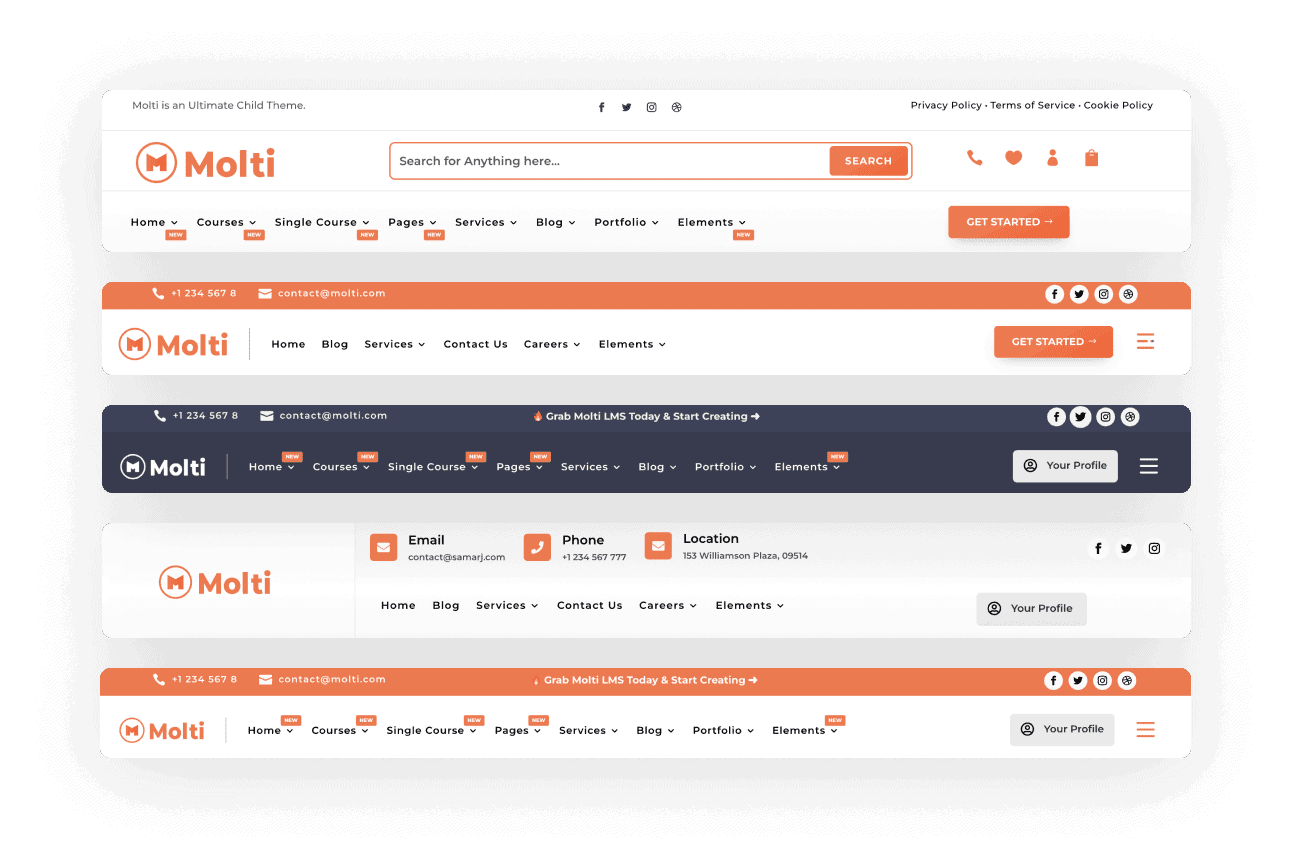 10 Awesome Footer Designs
Amazing 
Footer

Designs

With Molti Child Theme you don't only get many amazing Designs and Functionalities It also provides you 10 Awesome Footer Designs that fit any kind of website.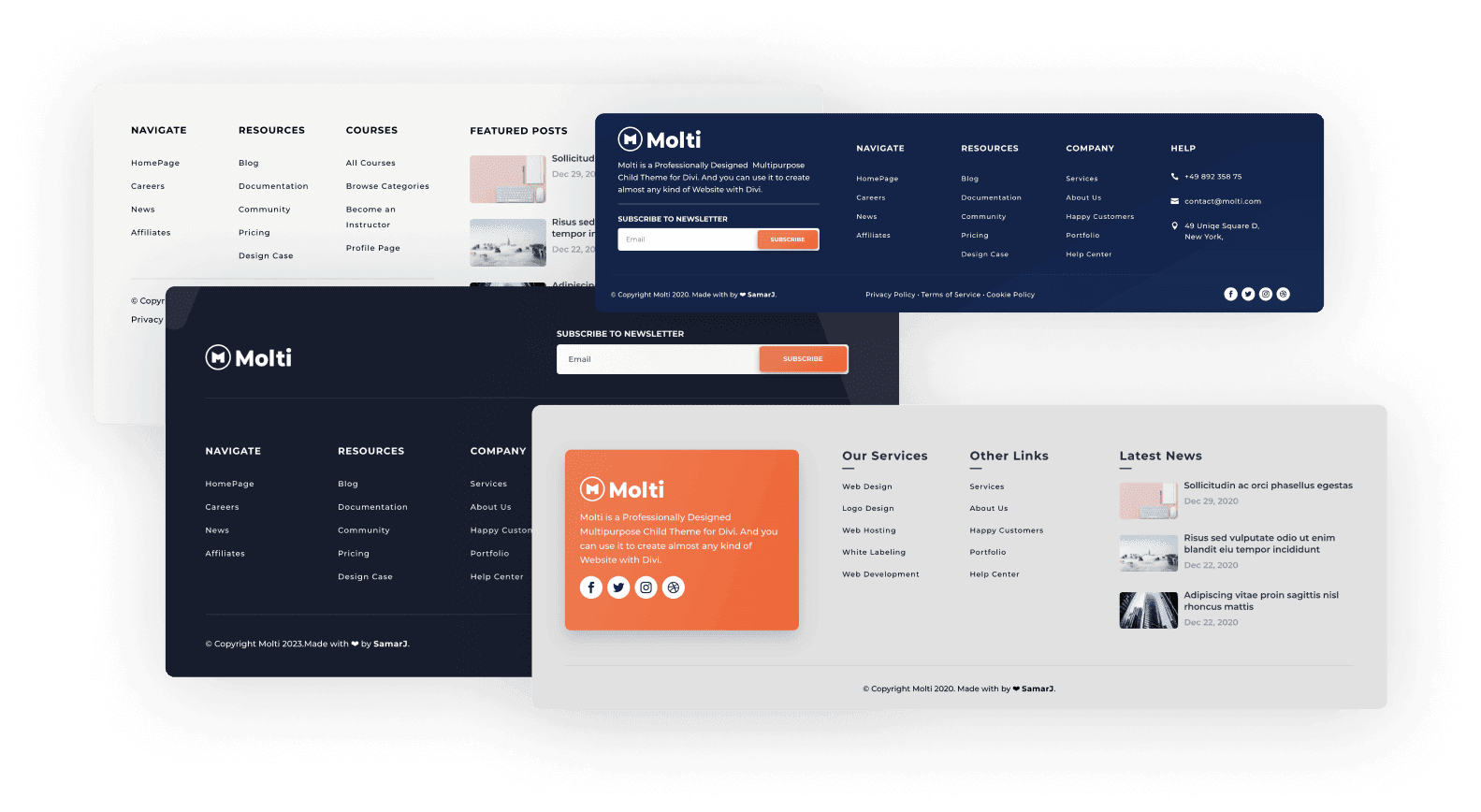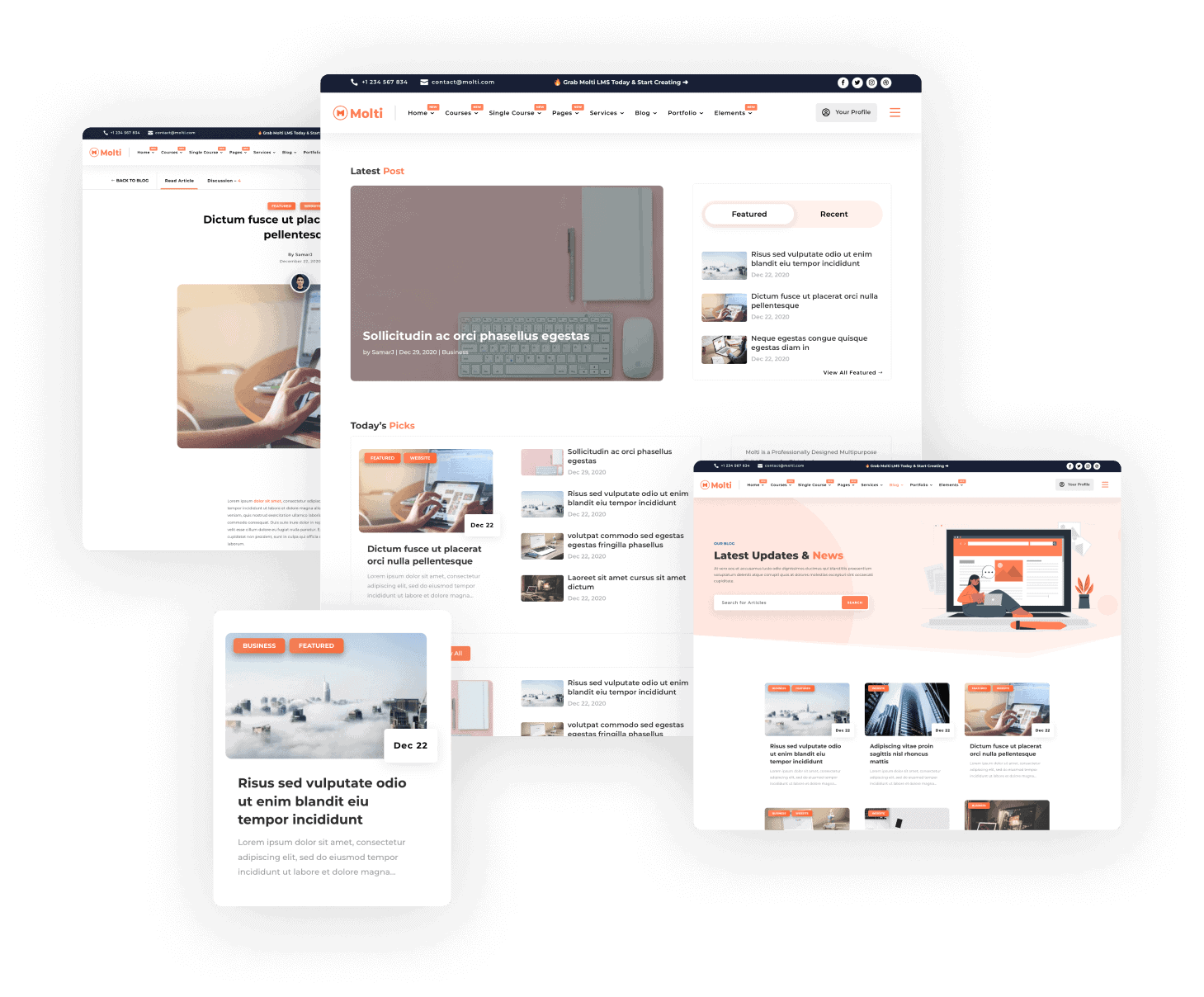 Awesome
Blogging

Experience
Create a
Stunning Blog Website

in a few minutes with Molti
With Amazing Blog Design, It's easy to set up your next Blog website with Molti LMS. Every Blog Element has been carefully designed to give It a perfect Eye-catching look.
Create Stunning
Portfolios
Showcase your work

in Divi Like Never Before.
Using Divi's Project Post Type and Molti's Customizations, you can easily showcase your work like never before using Divi & Molti. Either you're a Web Design Agency or a Renovation Company, It's going to fit for all.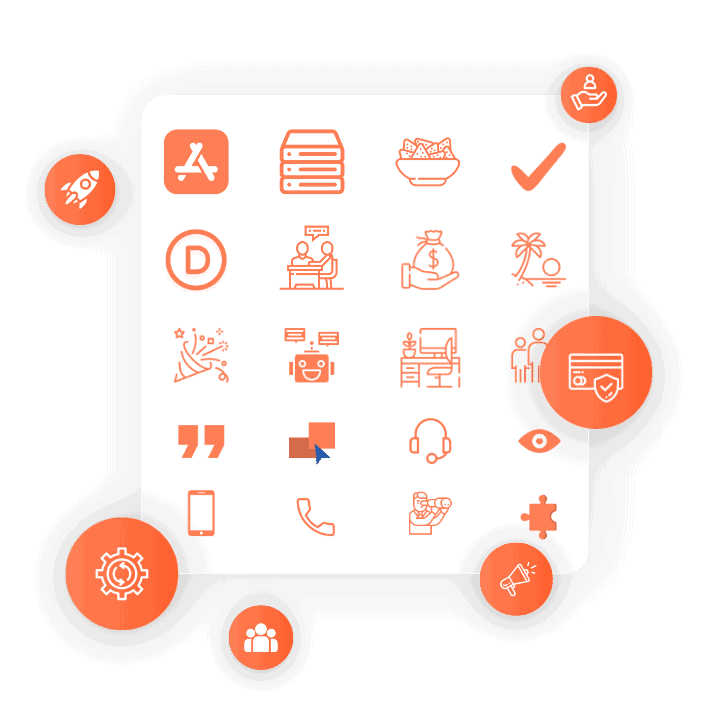 50+ Icons
Included
50+ Awesome

Icons Provided Separately (PNG)
You'll get all the Icons used in Molti LMS separately, we've added them separately because they might be useful for you some time.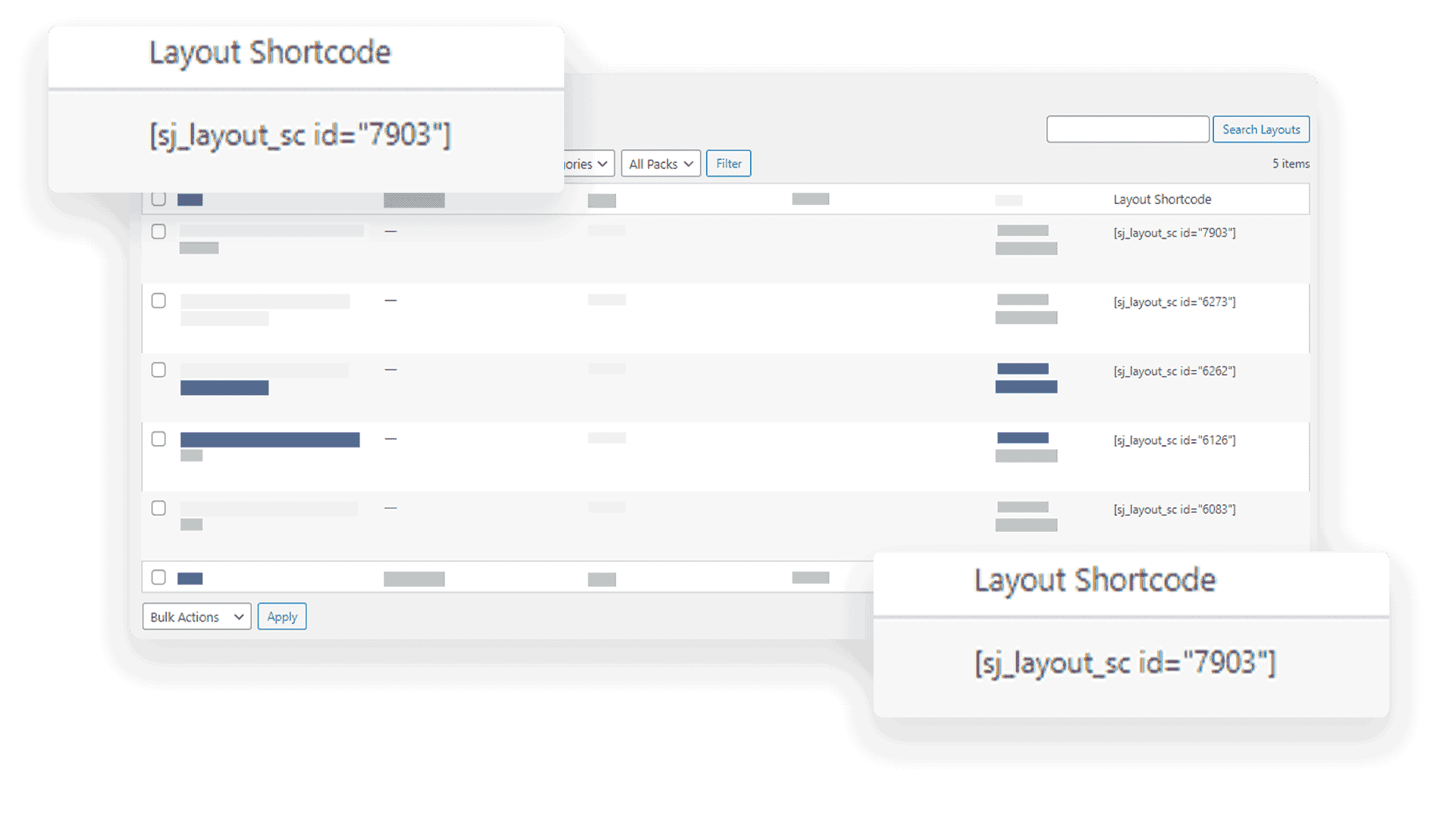 Every Layout as
Shortcode

!
Molti has a built-in option to use every Layout (Saved in your Library) as a Shortcode providing you more ways to insert and use Divi Builder in different places where Divi can't be used.
Molti provides an easy way to Import all the Demo Content the came with it. After Installing the Theme you'll click once and It will Import all the Demo Content in a few seconds.
Molti Provides some really cool Functionalities that you haven't seen before. Using these amazingly custom-designed elements you can easily grab anyone's attention.

70+ Unique

& Feature Rich
Elements

Designs
Molti LMS Provides more than 70 Unique Elements/Custom Divi Module Designs which are just fantastic to the eyes. We've separated a few of them which are just Fantabulous for you to use later.
Optimized for
More Speed
Molti Provides you
Instant Speed –

So You

Never Have to Worry

About Performance
Molti is the Perfect Child Theme for Divi, Optimized to provide instant speed so you never have to worry about performance. With Molti, your website will load faster than ever before, delivering a smooth and seamless experience for your visitors.
Important Performance Optimizations Required!

Just Don't take our Words, we've more than 5000+ Happy Customers and they're enjoying our Divi Products.

Customer service from SamarJ is outstanding. All of your inquiries will be fully and admirably addressed by him. I'm pleased that I purchased his theme. It's super fast! Sugoi すごい 

Samar has been tremendously helpful and prompt in response. Even on weekend he cared to reply back. Of course his child theme designs are superb in aesthetics and user-friendly.

I purchased a Divi child theme from Samar and it was the best decision. Not only did Samar help me get the child theme installed, but was prompt in answering my questions. I will definitely purchase from Samar again - he's a delight to work with.

Had a few challenges tweaking a few minor pieces of the code, so reached out to Samar. He was very responsive, volunteered to help directly & solved the problem for us really quickly.

I purchased the Divi Molti Child theme from Elegant Themes. I made a modification error while designing my website. Samar had my site fully restored in less than 24 hours. Great service. Very fast.

I bought the theme because the layout and the features attracted me, but what counts even more is, that I got a super fast, friendly and detailed help, when I needed. That was outstanding. The theme is really good and flexible.

Excellent themes for divi, we acquired the molti theme and very happy with it. The support with Samarj is great, any email query you will have a quick response. +10

Pretty good theme!! Made my first experience with divi easy. You got multiple page designs and elements to choose from. Also the support is really quick and cordinating. I would surely recommend molti to one and all!

I bought your molti child theme and the theme is so intuitive and responsive. I'm loving it. And thank you for the quick support response.

I have had some doubts customizing Molti child theme and I have contacted Samar by email. He has answered to my questions promptly. Very happy with the support. Very recommended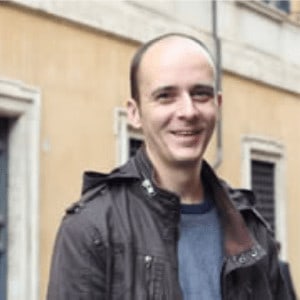 The child theme Go-On 2.0 looked so great I bought it in a second. It matches my needs perfectly. The support is great, fast, and very helpful. I've bookmarked the website for future projects and layouts!
 The Go-On 2.0 child theme has been phenomenal. You can tell that Samar loves his craft and his attention to detail is fantastic. So many options ready to go, I can see it being used in future projects as well due to its clean aesthetic and versatility. Cheers Samar!
Create your next website with
Molti LMS
If you think you've found a really cool design for your next website, then click this button to Purchase the Molti LMS Child Theme for Divi and start Selling your Amazing Courses Today!
It just takes a few seconds to install our Themes
Requirements
This Product need Divi theme Installed and active on your site to get everything up & running. And It's not included in the Package.
How to use it?
To Properly use this Product on your site, It's recommended to visit the Documentation first for Step-by-Step Installation guides.

Support
If you're facing any kind of problem while this Product, feel free to send us a mail using the form located on our site and we'll be in touch. 


To see Changelog, Click here!